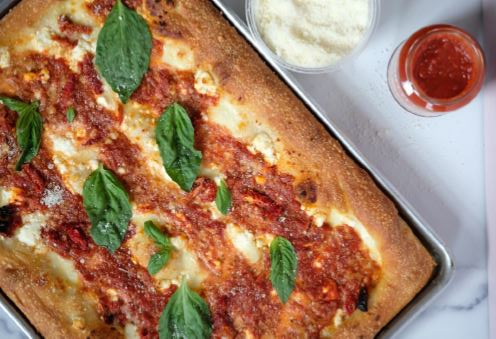 3-Cheese Sicilian Pizza with Sun Dried Tomatoes
From: Melissa Santell

Whether we charred it on the grill to get those bitter layers of flavor or baked it au natural on a stone in the oven, it always happily found its way to the dinner table.
Mutti® Sauces for Pizza are inspired by celebrated recipes from the cities of Positano, Napoli, and Parma. While each city has its own distinct culinary style, an appreciation for simple, high quality ingredients is a common thread. Inspired by the pizza of Napoli, this Sauce for Pizza celebrates the Pizza Margherita with a tantalizing blend of 100% Italian sun-ripened finely chopped tomatoes and aromatic basil.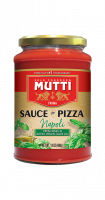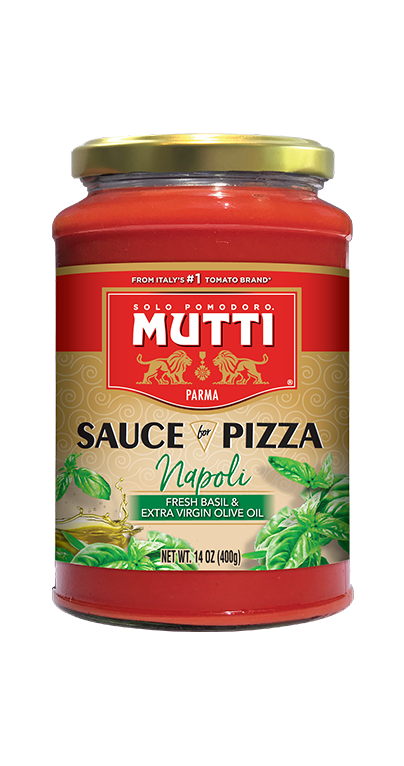 (COOK TIME: 8-10 min)
Easy
Ingredients

22 oz pizza dough
4 garlic cloves (minced)
16 oz fresh mozzarella (cubed)
1/2 cup goat cheese (crumbled)
1/4 cup Pecorino Romano (grated)
1/4 cup sun dried tomatoes
1 jar of Mutti® Napoli pizza sauce
Fresh basil (to garnish)
Olive oil (for coating + drizzling)
Salt + Pepper (to season)

Share the ingredient list
Method

To get started, coat the inside of a 12" x 18" x 2" pan with olive oil.
Stretch your prepared pizza dough to fit the pan. Gently drape the dough over each corner of the pan to help guide the shape. Use your fingers to lightly press the dough into an even layer. Cover the dough with plastic wrap and set aside to proof for 3-4 hours in a warm place.
Once the dough has risen (it'll nearly double in size), preheat the oven to 550 ° F.
Begin to layer your toppings onto the dough, starting with a drizzle of olive oil and fresh garlic. Then add mozzarella, goat cheese, sun dried tomatoes and pecorino romano. Finish by ladelling the sauce over the pie in a zig-zag pattern. Sprinkle it with salt and pepper.
Bake for 8-10 minutes on the bottom rack of the oven. Use a spatula to lift the pizza up and check for doneness. When the crust is golden brown, it's ready to pull!
Slice, garnish with fresh basil leaves + serve!
---
Liked the recipe?
Share with your friends