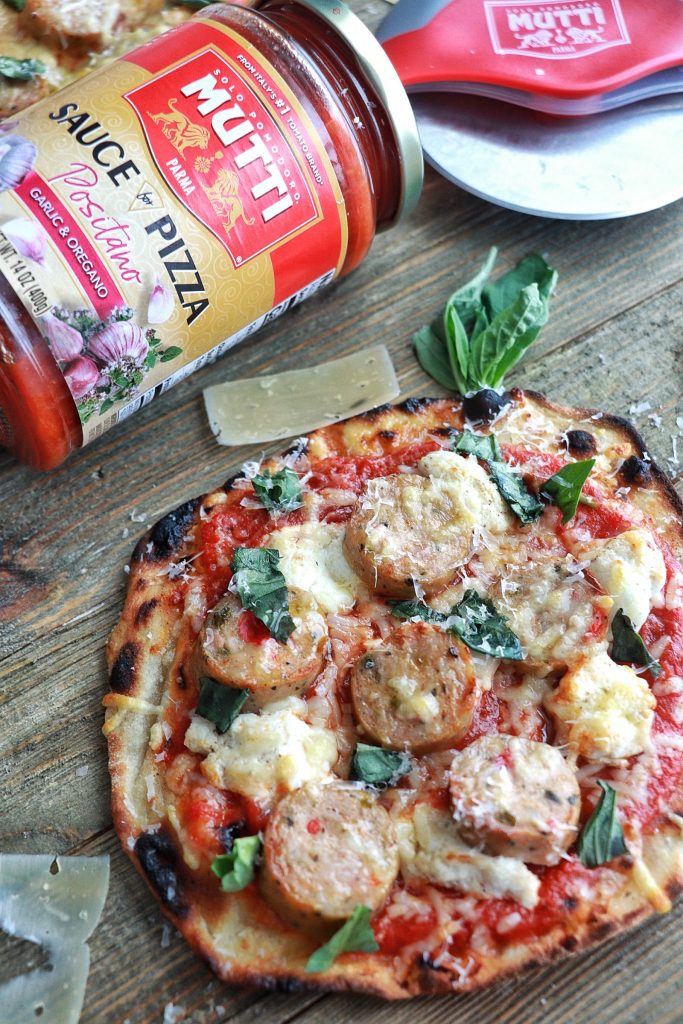 Chicken Sausage Goat Cheese Flatbread
From Kenneth Temple
An easy recipe for chicken sausage goat cheese flatbread. A great recipe for brunch, lunch, dinner, or a snack.
Mutti® Sauces for Pizza are inspired by celebrated recipes from the cities of Positano, Napoli, and Parma. While each city has its own distinct culinary style, an appreciation for simple, high quality ingredients is a common thread. This Positano sauce is inspired by the flavors of the Amalfi coast where fresh, 100% Italian sun-ripened tomatoes are blended with bursts of savory garlic and fresh oregano.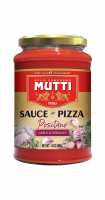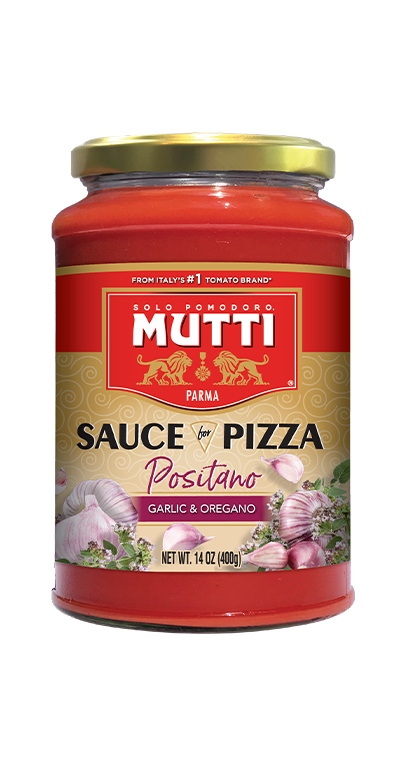 30 min (COOK TIME: 30 min)
Easy
Ingredients

Flatbread:

2 cups unbleached all-purpose flour plus more for rolling
1 teaspoon kosher salt
cups ¾ water
4 tablespoons Italian extra virgin olive oil

Topping:

1 14 oz. bottle Positano-Mutti® Sauces for Pizza
8 chicken sausages sliced ¼ - ½ inch
8 oz. goat cheese room temperature
teaspoon ¼ kosher salt
teaspoon ¼ black pepper
teaspoon ½ red chili flakes
8 oz. shredded parmesan cheese
½ oz. fresh basil
cup ¼ Italian extra virgin olive oil garnish

Share the ingredient list
Method

In a bowl add the flour and kosher salt, mix together. Pour in the water and 2 tablespoons oil, mix until dough forms into a ball. Lightly dust a surface and knead dough 40 times, let dough rest for 5 minutes. Cut the dough in half, then cut each half into 4 equal parts and roll each into dough balls. You should have 8 balls of dough.
Move oven rack two levels from broiler, preheat broiler to hi, lightly dust a surface and a rolling pin with flour, roll out each dough about 1/8 inch thick. Then evenly pierce with a fork. Lightly dust each bread with flour and stack to the side.
Turn on the heat to medium-high in a large skillet, add 1 teaspoon of oil and with a paper towel wipe oil out, cook bread for 1 minute on each side and repeat for each bread.
In a bowl mix together the goat cheese, kosher salt, black pepper and red chili flakes, cheese should still be slightly chucky.
Place 2 flatbreads on a foiled lined baking sheet. On each flatbread, spread 2 heaping tablespoons of Positano sauce over flatbread, leaving about ½ inch border around the edge. Use a spoon to dot about 2 oz. of goat cheese over flatbread. Top with 4-5 slices of chicken sausage and 1 oz. of shredded parmesan. Pop in the broiler for 30 seconds – 1 minute. Transfer to a cutting board, cut flatbread in 3 pieces on an angle. Tear 2 basil leaves over flatbread and drizzle with olive oil. Repeat until all flatbread are finished.
---
Liked the recipe?
Share with your friends