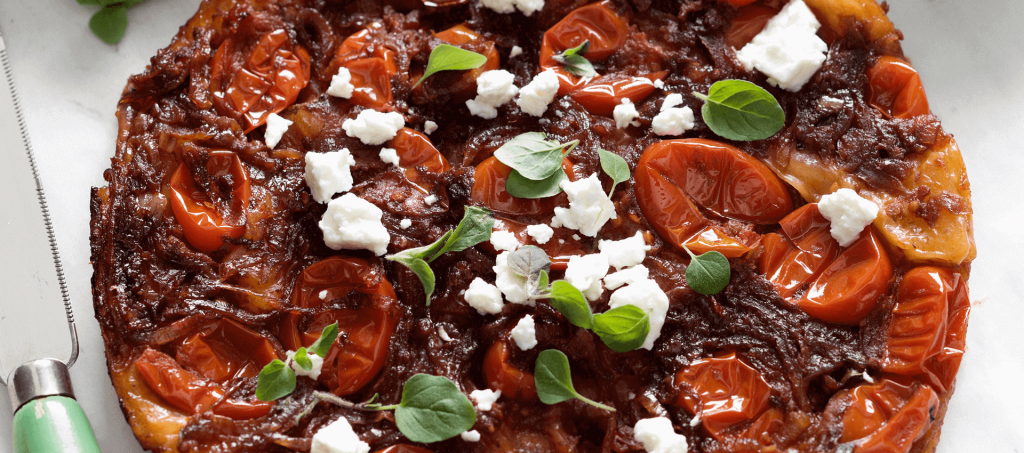 Tomato tart
Baby Roma, or Datterino, tomatoes are oblong and tasty cherry tomatoes with a sweet and delicious flavor. They are carefully collected and processed in the shortest possible time to preserve the freshness of each freshly picked tomato. Because of it's thin skin, the Datterini are perfect for dishes requiring short cooking times, such as pasta sauces, and also works well with shellfish and seafood.
(COOK TIME: 60+ min)
Ingredients

1 tablespoon olive oil
1 red onion, finely sliced
2 cloves garlic, crushed
1 tablespoon sugar
2 tablespoons balsamic vinegar
salt and cracked black pepper
1/2 teaspoon dried oregano
400 g can Mutti Datterini Tomatoes
1 1/2 sheets butter puff pastry, just thawed
crumbled goats' feta
leaves fresh oregano

Tip: Serve with baby rocket.

Share the ingredient list
Method

Heat oil in a medium frying pan. Add onion and cook 20 minutes over a medium/low heat until soft and lightly golden. Add garlic and cook for 1 minute longer. Add sugar and vinegar and cook stirring for 3 minutes.
Add salt, pepper, oregano and undrained datterini tomatoes. Simmer for 10 to 15 minutes or until very thick, stirring occasionally. Set aside to cool.
Meanwhile, preheat oven to 220°C. Lightly oil a 23cm round cake pan and line base with a circle of baking paper which extends 1 cm up the sides of the pan. Spread tomato mixture over the base.
Cut pastry into 6 equal sized triangles. Place on top of tomato mixture. The pastry triangles will overlap. Tuck in pastry around edges. Use the point of a sharp knife to make 3 incisions through the pastry to allow for steam to escape. Bake on an upper oven shelf for 20 minutes or until pastry is golden brown.
Remove tomato tart from oven and cover with a serving plate or board. Upturn to remove from pan. Top with goats' feta and oregano leaves.
---
Liked the recipe?
Review and share with your friends