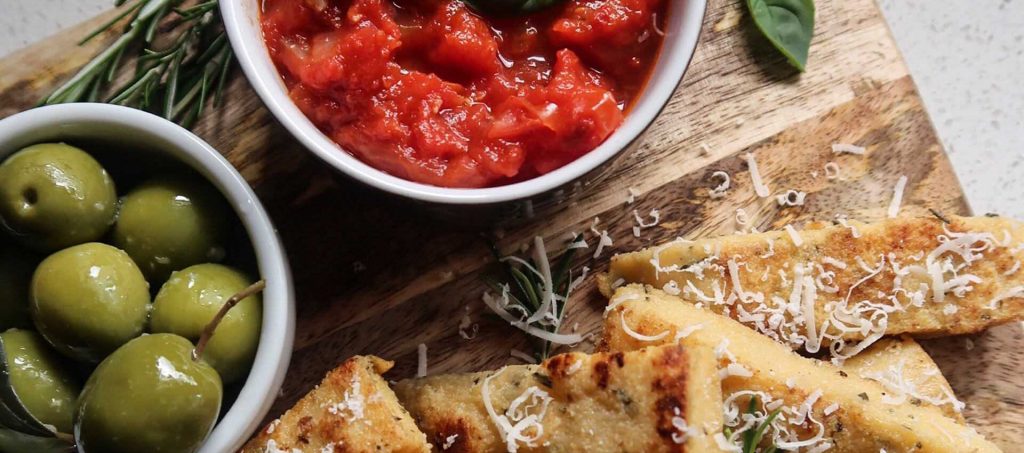 Rosemary and Parmesan Polenta Chips with Spicy Dipping Sauce
Mutti® Baby Roma Tomatoes (Datterini) are small, oval shaped tomatoes with a wonderful fleshy texture and a delicious sweet flavor. They are carefully harvested and quickly processed to preserve their freshly picked taste. Their thin skin makes them ideal for quick sauces or for topping shellfish and seafood.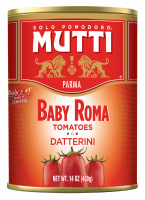 40 min (COOK TIME: 40 min)
Easy
Ingredients

For the polenta chips:

3 cups chicken liquid stock
2 tablespoons finely chopped fresh rosemary leaves
1 clove garlic grated
1 cup instant polenta
1/2 cup finely grated parmesan
Olive oil cooking spray

For the spicy sauce:

1 x 400 g tin of Mutti Datterini Tomatoes
1/2 diced onion
1 clove garlic crushed
1 tsp dried chili flakes
1 tsp smoked paprika
1/2 cup fresh basil
1 tbsp olive oil
1 pinch of Salt

Share the ingredient list
Method

Grease a 6cm-deep, 19cm (base) square cake pan. Line base and sides with baking paper.
Mix the stock, rosemary and garlic in a medium saucepan over high heat. Once it comes to a boil, reduce to a low heat.
Add the polenta slowly while stirring constantly. Stir for about 6 minutes until it thickens, then turn the heat off.
Add the parmesan and mix well. Pour into the pan and spread evenly.
Refrigerate for 2 hours or until set.
For the spicy sauce, in a small saucepan on low heat add the oil, garlic and onion and heat for 2mins.
Add the tin of Mutti Datterini tomatoes, basil, paprika, chili flakes and salt to taste. Mix well and cook for 10mins on low heat.
Once cooled transfer to a small bowl. Serve this at room temperature.
Carefully remove polenta from pan onto a cutting board and cut into 2cm wide chips.
In a large pan heat a little extra olive oil and fry each of the polenta chips in batches until golden brown on each side.
Serve alongside the spicy sauce
---
Liked the recipe?
Share with your friends